Used/Reclaimed Brick
Yes, we have them! Used Brick is the best with all of the many imperfections, nicks, scratches and discolorations. Create an old world look in your new construction or project! Salvaged from historic buildings, circa 1930's, this collection can be used for exterior applications.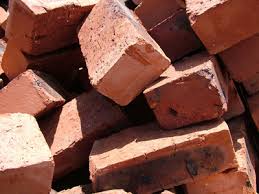 The careful craftsmanship and material resources of a bygone era went into the making of these bricks, resulting in a mellow, natural look as well as strength that will last for generations. All bricks easily adaptable for driveways, patios, garden paths and more.
75¢ each- whole brick
65¢ each-  Quantity discount with purchase of 125 or more whole brick  
15¢ each- 1/2 brick
2 for 25¢– Quantity discount with purchase of 20 or more 1/2 brick  
Plastic Lawn Edging 5 in. x 20 ft. Brown/Black Contractor Grade (thicker/heavy duty) Landscape Lawn Edging.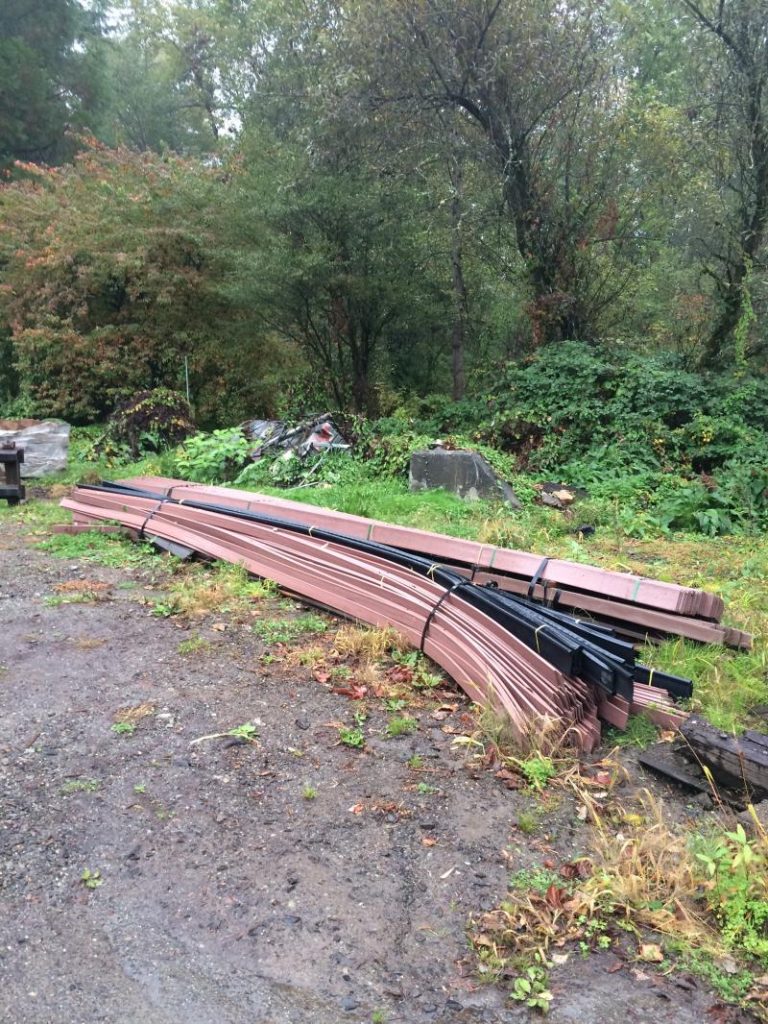 Also have:
5 1/2″ x 20′ brown
3 1/4″ x 20′ brown
1 1/4 x 3 1/4″ x 20′ (brown wood textured plastic edging board- not pictured)
Made from 100% recycled quality post consumer plastic, Joe's Plastic Edging is 5 in. x 20 ft. Brown or Black Landscape Lawn Edging coil provides for a raised layer of mulch, rocks or soil. Edging blocks spreading of grass and maintains a durable boundary for mulch, rock, and other decorative materials
Includes 20 ft. edging- stakes sold separately by the piece or 20 pack (see below)
Assembled dimension: 240 in. length x 5 in. height (approximate)
Prior to installation, lay uncoiled edging flat in warm sunlight to improve flexibility
Made with 100% post consumer recycled HDPE plastic
Ultraviolet light stable formula won't fade in the sun light
Made in the USA
Easy to install
Each 20′ length, your choice: $20 each!!
Terrace Board Stakes in Brown/Black
Ideal for staking a tree, lawn edging, or landscape pavers, Terrace Board Stakes come in a 20 pack or are sold by the piece and are made from 100% recycled quality post-consumer plastic. Stakes provide extra support and holding power for tough lawn jobs. Made from 100% recycled milk jugs and other high density polyethylene post consumer plastics.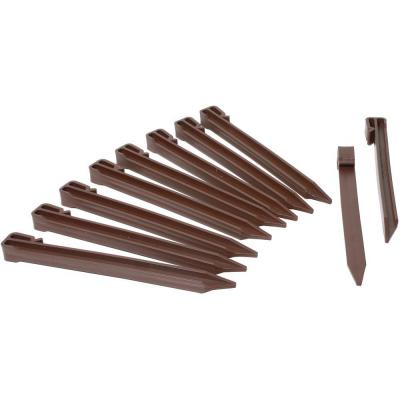 Includes 20 ABS stakes
Used with 20 ft. terrace black or brown edging
Can be used for tents and camping
Clip top tying off line
Stake edging every 2-5 ft.
Wear eye protection when hammer stakes
1 inch by 10 inch length
Has pre-drilled hole for tying off line
Purchase them by the piece for $1.50 each
20 Pack Bag Special Price- $25