Whiskey / Wine & Rain Barrels / Fire Pits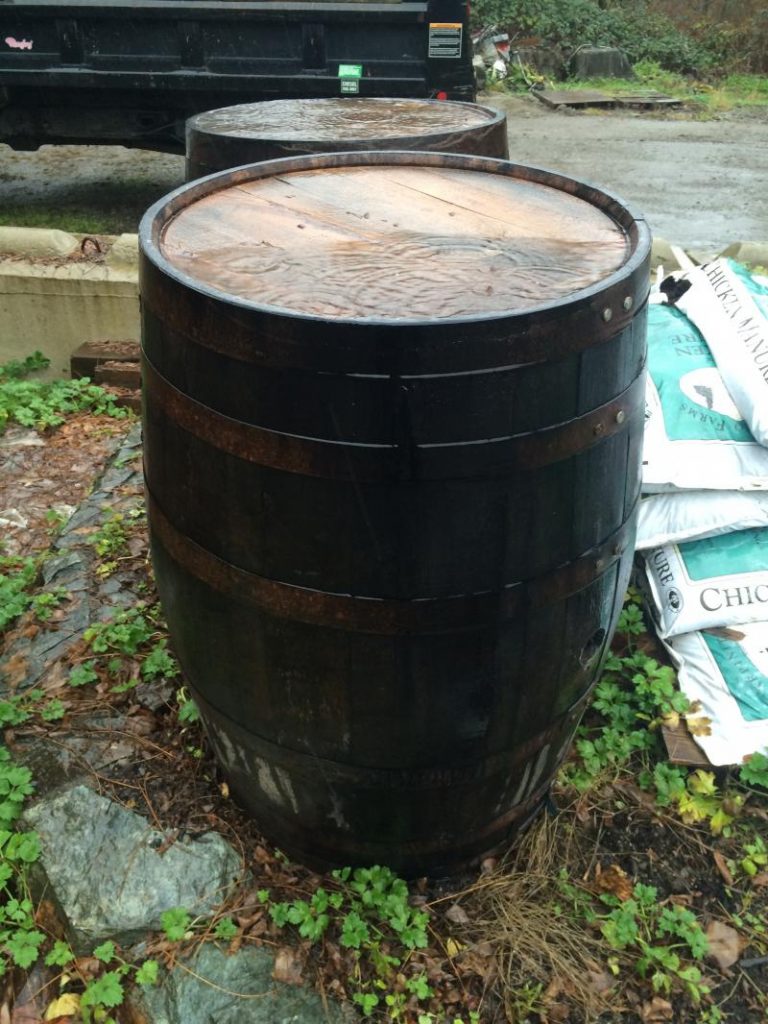 We have a great selection of Whiskey/Wine and Rain Barrels that we can deliver to you for use as planters, as decoration, props, or in the case of Rain Barrels for your rain water conservation project We recently even sold a Whiskey/Wine Barrel to a gentlemen who was planning to convert it into a Halloween costume! The Whiskey/Wine Barrels are heavy and weight 125 lbs each (for a full barrel) and 60lbs for a half barrel. The Rain Barrels are lighter and weigh about 25 lbs.
Whiskey/Wine Barrels- Cash/Credit only.
We have Half and Full Whiskey/Wine Barrels. These Barrels when purchased new by wineries, are approximately $1000-$1400 each and are only used to store wine for 4-7 seasons! They are typicall made of French Oak and may even be slightly fired/burned on the inside so that the burned oak flavors the wine or whiskey. Some also include other wood apparatus inside that (I assume) is to flavor the wine or whiskey. The barrels do vary in size. Some are taller and skinnier and others are shorter and fatter! You can pick out the barrel that you want. Approximate dimensions are as follows:
Full Barrel: 22″ wide top, 30″ wide middle, 22″ wide bottom, 38″ tall
1/2 Barrel: 30″ wide top, 22″ wide bottom, 19″ tall
Prices
1/2 Whiskey/Wine Barrels- $62.50 each (cash discounted price)
Full Whiskey/Wine Barrel (not sawed in half) – $115.00 each (cash discounted price)
Charge for 6-8 holes drilled out on the bottom of a 1/2 Whiskey/Wine Barrels (for water drainage). Advance notice required- $10 charge
Cash/Credit only accepted for whiskey/wine barrels (no personal checks)
You pick it up
You can pick them up yourself during our business hours at our Woodinville Retail Yard located at:
13300 Avondale Road NE Woodinville, WA 98077
We deliver
The delivery charge is often included with delivery of Landscaping materials that you purchase from Joe's Landscaping Supplies and that we deliver in the Puget Sound area so adding a whiskey/wine barrel to the truck is no big deal.
However, If you only want the Half or Full Whiskey/Wine Barrel delivered to you (without any other landscaping materials), we can deliver them to you for a delivery charge that depends on how many you buy and your delivery address (again in the Puget Sound area).
Care instructions for Whiskey/Wine Barrels
To keep your 1/2 Whiskey/Wine Barrels in great shape and keep them lasting for a long time, we have a few suggestions. If you are using them as planters: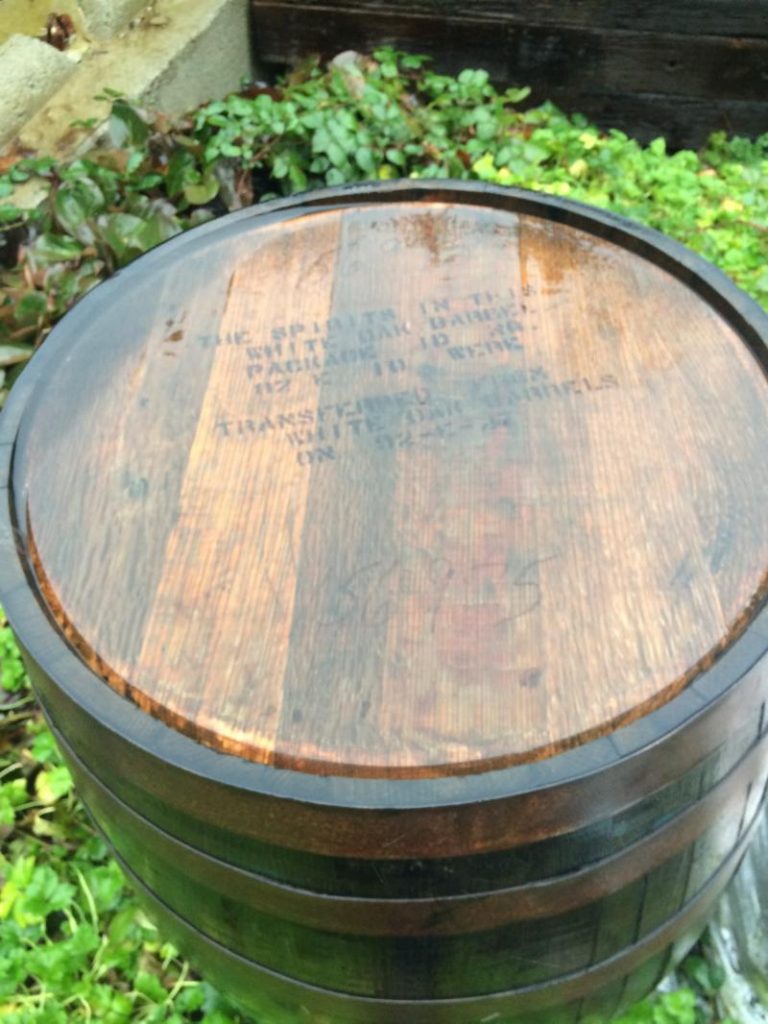 Drill 6 half inch holes through the bottom of the 1/2 Whiskey/Wine Barrel (This allows water/moisture to flow through the barrel so that it does not collect on the bottom and rot the bottom out).
Line the bottoms and sides (at least half way up) with Weed Defense Fabric (like the kind we sell here). This will prevent Pea Gravel, Drain Rock or Topsoil from getting in the holes and clogging them up.
Fill the bottom with 3/8″ Pea Gravel or 7/8″ Drain Rock about 4″ high.
Again, put another layer of Weed Defense Fabric on top of the Pea Gravel or Drain Rock and all around the inside of the barrel to a least the level of where your topsoil will be.
Then fill the Barrel with topsoil to a few inches from the top. The topsoil is not only necessary to plant your plants in but it also keeps pressure on the barrel from the inside so that it does not eventually rot and fall apart.
if you are storing the barrels for any length of time, we suggest that you fill them with water to preserve them. The water provides constant pressure from the inside of the barrel and when the barrel stays wet, the wood swells up and keeps the metal rings around it tight. When the barrels dry up, the wood shrinks and the rings that hold the wood together will become loose and the wood will eventually begin to rot.
By taking the steps above you will keep your Whiskey/Wine Barrels looking great and in great condition for a long time!
Rain Barrels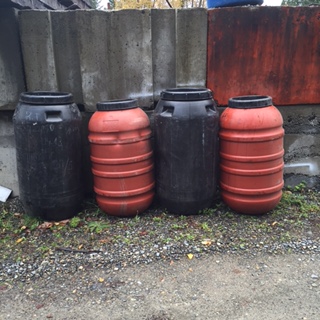 The Rain Barrels have a 55 gallon capacity and come in various styles and colors including blue, rust, black and white. They have previously contained food product (so they are very safe).The whole top screws on/off of the rust and black colored barrels. Some have bung holes with white caps. They can be easily cut or plumbed to do or make whatever you like out of them too. You can also buy rain barrel kits at your local plumbing store (or ask them what you need) for the type of rain barrel you'd like to create.$45 each (cash discounted price) + delivery charge (if applicable).
Fire Pits!–Sorry, currently out of stock
These pits are very unique. We have two sizes and they weigh 600-800 lbs each and are said to be made out of magnesium. How's that for something different? You won't find these at your local Home Depot! You're invited to explore a space where imagination means the implement, and your outdoor room is given the life of an open fire for you.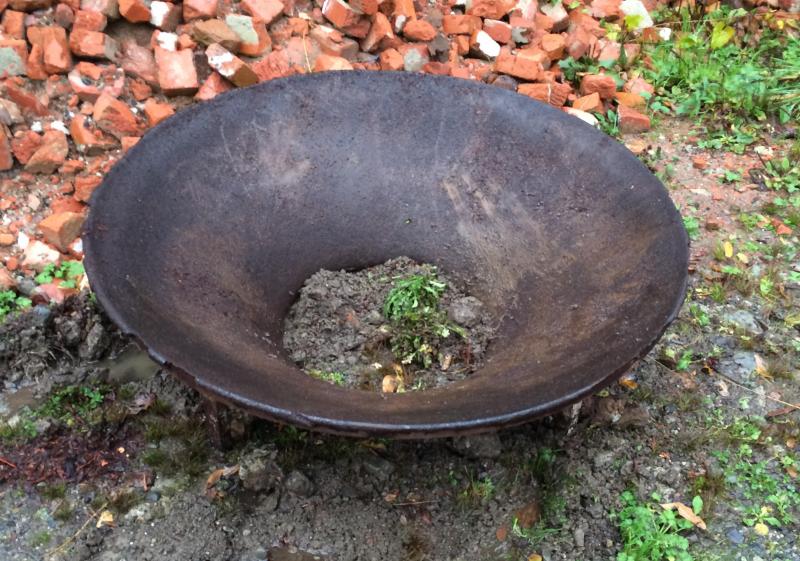 We do not recommend using our fire pits on a wooden surface, or on grass; near walls or flammable articles or under overhead coverings. Due to them being very thick and heavy metal they get and stay very hot for a long time Keep at least 2 or more feet away from all other articles during use.
These magnesium Fire Pits have everything you need to get the evening going; with a span of 36" in diameter, you'll find room enough to build a blaze that will last for hours. You'll have everything you need to get you from ignition to embers, and all the moments in between. They didn't used to be fire pits in their previous lives but now you can use them to create a heavy-duty commercial sized pit that everyone will envy!
Shape: Round
Fuel Type: Wood
Material: Magnesium
Overall Width: 36″
Overall Depth: Tub: 8″
Overall Height: 23″
Assembly Required: none
Item Weight: approximately 800 lbs.
Unique Feature: You can install casters on bottom so they can be rolled around.
We do not recommend using our fire pits on a wooden surface, or on grass; near walls or flammable articles or under overhead coverings.  Due to them being very thick and heavy metal they get and stay very hot for a long time  Keep at least 2 or more feet away from all other articles during use.  We have 1 of each size in stock at this time, first come, first serve. $350 (medium size)    $400 (large large)