Tools/Garden Supplies/Furniture
Below are just the tools and other supplies you'll need for your project. We can deliver them with your order so that you'll be ready!
12′ x 16′ Reversible Dry Top® Tarp — $16.95
The tarp shown above is just an example picture. The tarps that we carry are high quality and have been improved to be "reversible" in that they are brown on one side and green on the other, thicker and more durable. We also have the all blue tarps.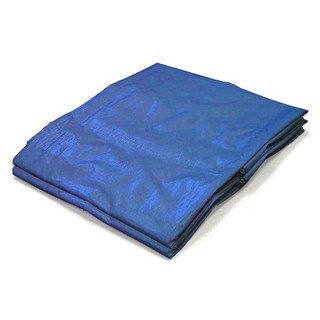 6 mil thick – our reversible tarps are thicker than other super thin tarps. Light weight yet extremely durable!
3 oz per sq. yard
8 x 8 weave count
Rust resistant grommets approximately every 3 feet
Heat sealed seams
Rope reinforced hems
Water, mildew, rot, tear and acid resistant
Mildew and waterproof
Artic flexibility
Size is cut size. Tarp's finished size is up to 2% or 6″ smaller, whichever larger.
Our tarp is first grade. No lower strength recycled materials are used in the tarps that degrades the strength of the fabric. Tarps can be used for Joe's Landscaping products, construction applications, landscaping projects, woodpiles, and camping.
Special– buy 2 or more and they are $15 each!
Joe's Weed Barrier Fabric 3′ x 50′ Roll — $16.95
We sell this at our store in Woodinville or that we can deliver to you with your delivery order. The fabric is very popular in our product line and works well. Joe's Weed Barrier keeps weeds out with small openings in the fabric to let air and water in and allows for proper air exchange for oxygen in and carbon dioxide outOur weed blocking fabric features technology to let air, water and nutrients through, not weeds- for healthier plants and soil. Weeds can't get established on top of the fabric, and can't penetrate from below. This weed fabric is designed for perennial gardens, around trees and shrubs. It is easy-to-install: lays flat, and cuts cleanly.Chemical free weed control!
Basic weed barrier provides adequate weed control for residential landscape areas
Great for annual plantings
Maintains soil moisture and promotes a deeper root system
Point-bond material allows air and water penetration
Basic UV protection for strength and durability
50-ft L x 3-ft W roll covers 150-sq ft
Easily installs with Joe's landscape staples/pins
Ideal for residential landscape beds and home gardens
Assembled in the USA
Keeps weeds out with small openings in the fabric to let air and water in
Allows for proper air exchange for oxygen in and carbon dioxide out
Maintains soil moisture and promotes a deeper root system
Blocks weeds
Great for annual plantings
Installs in three easy steps
GIANT Roll of Joe's Commercial Grade Weed Block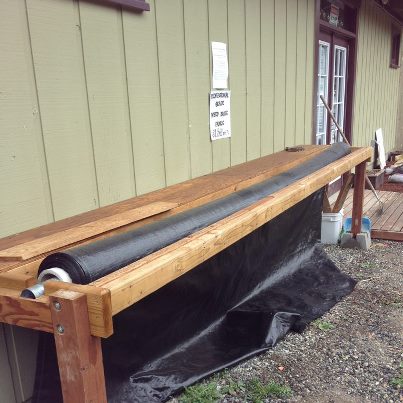 Get what commercial landscapers use! Sold by the foot (we'll cut it to your length requirements while you wait) or you can buy the whole darn roll from us to cover a really big area (5,400 square feet to be exact)! It is very economical to have us cut how much you need from our Giant Weed Block Roll or buy a whole roll instead of using many smaller rolls that you must pay separately for and then have to piece together. Plus, our giant weed block roll is commercial grade material that is heavy duty. Stop by our retail store location at 13300 Avondale Road NE, Woodinville 98077-6502 and have us cut off how much you need or buy your very own GIANT roll!
12′ 6″ wide x 432′ long (covers 5,400 square feet) $495 for the whole roll!
We'll cut lengths to your specifications. With each lineal foot that we cut for you, you actually get 12 1/2 square feet to cover your area.
$1.65 per lineal foot picked up and paying with cash or $1.90 per lineal delivered with your order or picked up on Sunday.

Joe's™ Landscape Staples– 3/$1 or a box/bag of 75 for $22.95
Joe's ™ Landscape Staples are sold individually 3/$1. You can also buy the whole box (75-Pack) , deeply discounted, for $22.95. You can pick them up at our store or we can deliver the staples to you with your order of bulk landscaping materials that includes Joe's Commercial Grade Weed Block or Joe's Weed Shield Defense Fabric 3'x45′ Rolls. These durable metal pins help make commercial weed block and weed shield defense fabric work even better. You can also use these anchor pines to secure bird and deer netting, burlap and other landscape fabrics….and they are easy to use!
Joe's Jammin' Workhorse Wheelborrow –
6 cu. ft. with Steel Handles & Joe's Flat Free Tire™ and…its already assembled for you. Just wheel it out or free delivery** with most delivery orders! $119.95
**Free delivery with existing delivery orders in a small dump truck only. Get more done with this hard-working wheelbarrow. The high-capacity 6 cu. ft. steel tray, rugged steel handles and flat-free tire make this unit ideal for just about any job. This wheelbarrow is built to last and will provide years of trouble-free service.
Dimensions: 25.50 in. W x 58.75 in. D x 27 in. H
15.8 in. flat-free tire, never needs air and allows for continuous use in the toughest job sites
Tough steel handles with comfort grips provide improved strength and durability
Joe's Jammin' Workhose Wheelbarrow is built from the ground up with the professional in mind
Upgraded heavy gauge tray will handle the toughest jobs
Heavy-duty undercarriage and support bracing means the Joe's Jammin' Workhorse Wheelbarrow is ready for anything and everything the professional or homeowner can throw at it!
6 cu ft. capacity. Just 4 1/2 wheelbarrow fulls moves 1 cubic yard of material (27 cubic feet in 1 yard). Be more productive and efficient with Joe's Jammin' Workhorse Wheelbarrow!!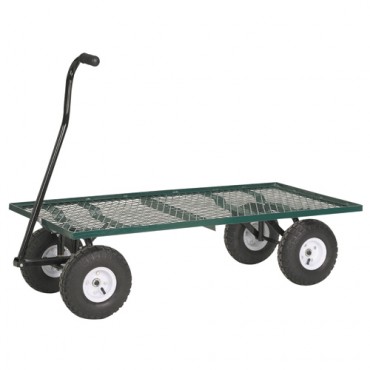 Steel Mesh Deck Wagon–$99.95
This is the perfect open-sided wagon you can use for hauling supplies and equipment around a nursery, farm, worksite, or just your backyard. Open-mesh deck is braced underneath, for up to a 1000 lb. capacity. Wide wheelbase helps prevent tipping.
Heavy 10 gauge, 24″ x 48″ steel mesh deck
Hauls up to 1000 lbs. 12-1/4″ above the ground
10″ turf-style pneumatic tires handle rough terrain
5 steel-reinforced support brackets
some assembly required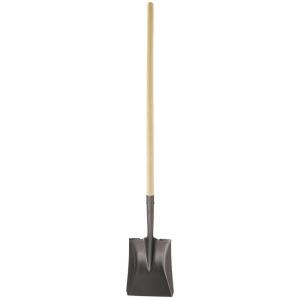 Joe's Long Handle Square or Round Point Shovels – $14.95
These shovels have ash wood handles for traditional value and a 16-gauge rolled steel blade that is tempered, strong and durable. They are very durable tools for any job. The Round Point Shovel has a rolled shoulder, one piece head, and is sure to be a useful helper to help you move your material. Great for transferring loose material.
46 In. Wooden handle
9 in. blade width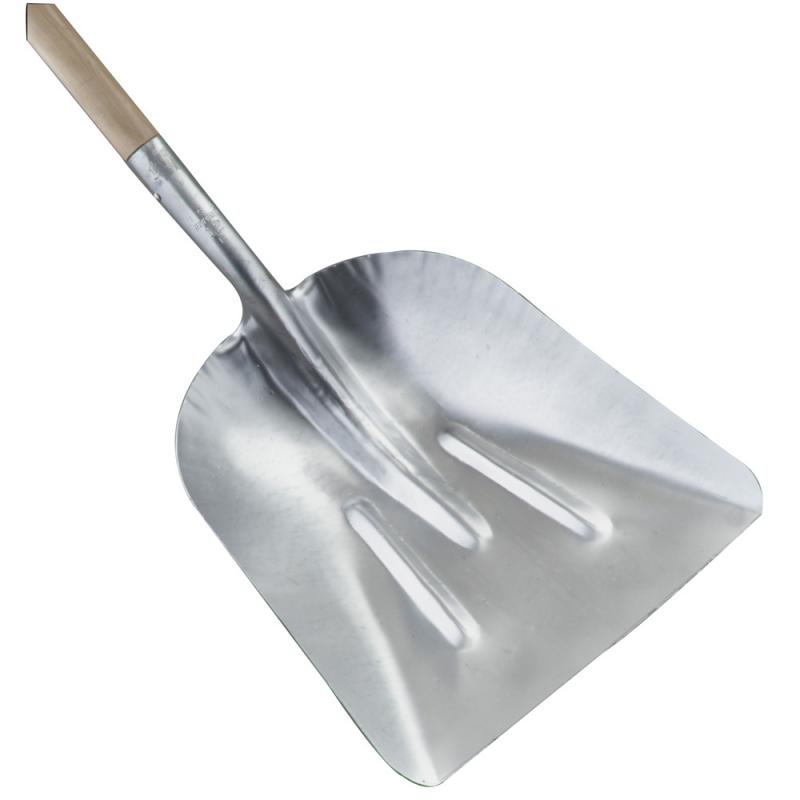 Joe's® Aluminum Scoop Shovel — $32.95
This scoop shovel has a high grade northern ash handle for maximum strength and ABS poly construction for stiffness and durability. Full size cushion "D" grips will fit your gloved hand comfortably. This is a big scoop shovel and can scoop twice (or more) of what a typical square point shovel can. It's even perfect for shoveling lighter materials like bark, mulch or Cedar Play Chips quickly and efficiently.
True Temper 14 Tine Row Rake – $14.95
This light duty garden bow rake is made of non-rusting poly ferrule. A handy and durable steel garden rake for moving loose debris or evenly spreading topsoil.
True Temper® 24″ Poly Greensweeper Leaf Rake — $12.95
This is a one-piece construction, lightweight and yet very durable rake. Premium fortified poly tines retain their shape! Rake all the leaves, weeds and old bark off surfaces with this rake before you apply your new bark from Joe's Landscaping Supplies!
Twisted 1/4″ Polypropylene Rope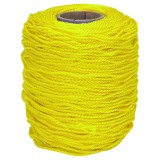 This 600-foot poly rope is three-strand, strength-braided to hold up to 113 lbs. The polypropylene rope resists mildew and floats on water, making it ideal for mooring, towing, water skiing or securing landscaping materials in pick-up trucks or other vehicles! The slick surface also helps prevent snags.
Poly rope resists mildew
Floats on water
Snag and acid-resistant
Three-strand, strength braided
600′ of rope– Buy the whole spool for $29.95 We'll also cut lengths to your specifications too. Need to secure the Railroad Ties that you purchase for a safe trip home- use this rope! .15¢ per foot.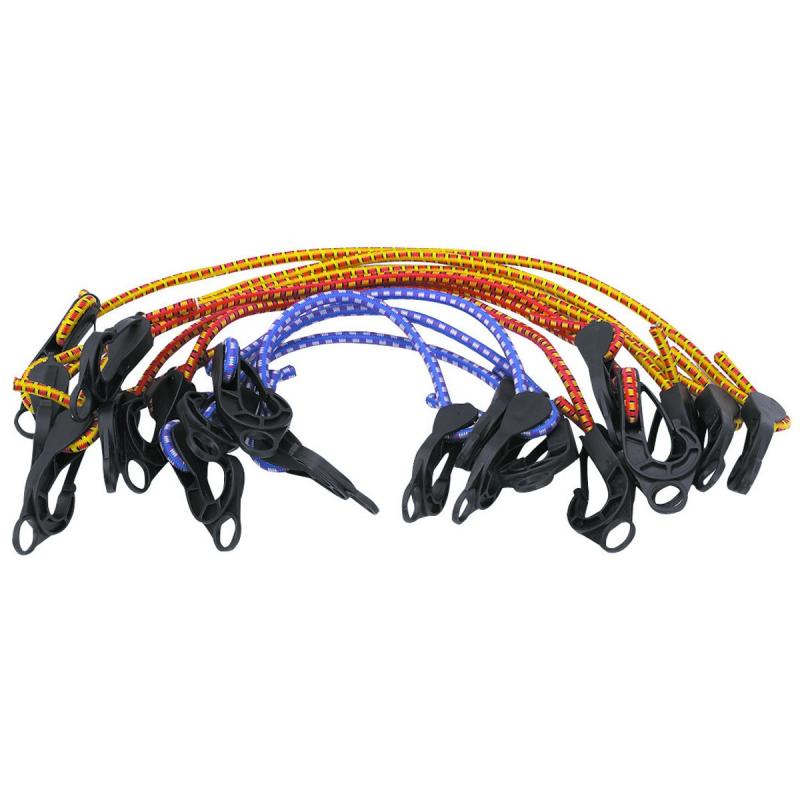 Adjustable Elastic Cords – just $1.00 each.
These hook-ended elastic cords are perfect for bundling items together or tying down loads in the truck bed. The durable nylon covered elastic cords keep items bound and secure without fear of breaking. Non-marring hooks with safety clips further lock items down without scratching or damaging your loads. This is a great set of tie down cords for truckers (or us residential folks) to secure loads and also for the home handyman to bundle tools and accessories together.
60 lb. capacity
Easily adjust tension and length for a perfect fit
Non-marring hooks with safety clips – no dangerous exposed hooks
Pull-loops prevent pinched fingers
Color coded for different lengths
We have the following sizes: 13″, 18″ and 24″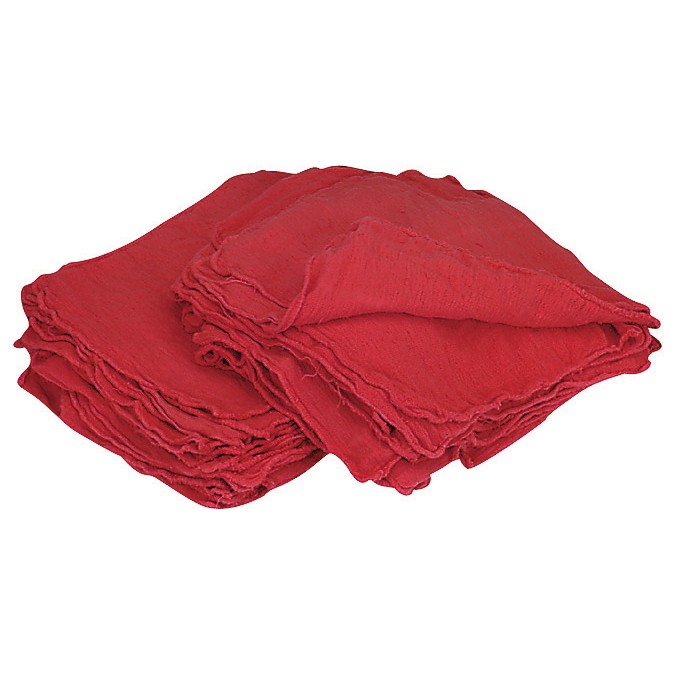 15″x13″ Red Sage Market Flags/ Mechanic Shop Towels
These are used for many purposes. Most of our customers use them for attaching to long RR Ties or Guardrail Posts that extend beyond their vehicles for the visual safety of other motorists.
Easily stapled or nailed to materials for visual safety
Machine washable
Soft all-cotton weave
Picks up dirt, grease and liquidsWe have the following sizes: 13″, 18″ and 24″……………… just $1.00 each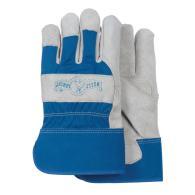 Joe's® Men's Suede Leather Palm Gloves –$3.95/Pair
These are great work gloves- one size fits all.
They are made of durable suede cowhide, have a palm patch for extra wear and a safety cuff for added protection!
Wild West Wagon Wheel Bench– $159.95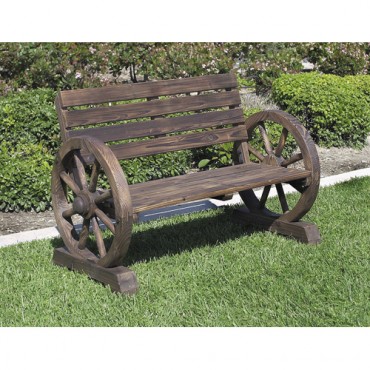 Give your lawn or garden the Wild West treatment when you set this wagon wheel bench down in your front or back yard, or adjacent to your garden. Sturdy garden bench is crafted of solid hardwood, with an authentic looking fire-burnt finish for that Western frontier look. Basic assembly required.
Sturdy hardwood construction
Vintage-look fire-burnt finish
400 lb. capacityOverall dimensions: 42-3/4″ L x 21″ W x 30-1/2″ H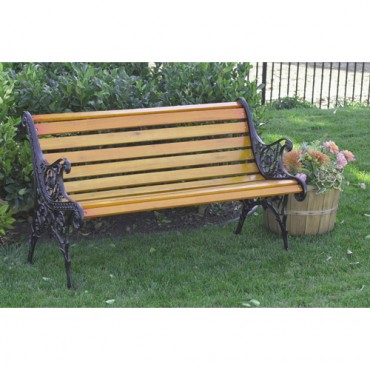 Joe's 12 Slat Park Bench – $99.95
The graceful curving lines and intricate ironwork make this bench a handsome addition to your garden, patio, or interior.
Hardwood slats, clear varnish coating
Victorian design suggests the great parks of London and New York
Some assembly requiredDimensions: 48″ L x 25″ W x 29-3/4″ H
Some assembly requiredDimensions: 48″ L x 25″ W x 29-3/4″ H

Floor Mount Boot and Shoe Brush – $19.95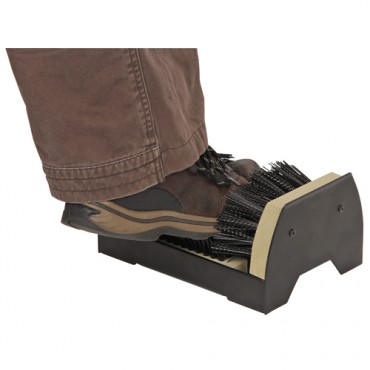 Joe swears by this product as one of many that saves his marriage! It does a great job getting dirt and mud off of the bottom and sides of your shoes and is especially useful if you are working in the yard or garden areas outside and making trips in/out of the house (with potentially muddy, dirty shoes). A great product for the money.
Stiff bristles easily knock dirt and mud off your boots and shoes to help keep your home cleaner
Complete with mounting screws and anchors
Extremely durable construction
Wooden Bridge– $219.95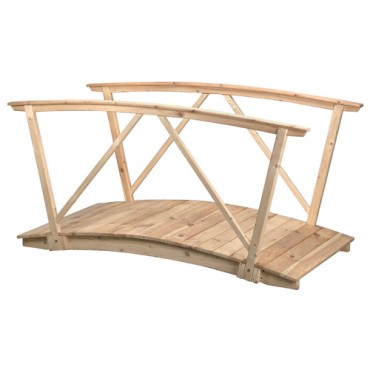 This beautiful garden bridge is made from the highest grade pressure-treated pine.
All pieces are made from solid wood (no composites or laminates).
Smooth edge decorative finishEasy assemblyOverall dimensions: 80-15/16″ L x 35-1/4″ W x 40-1/2″ H
Steel Cow Bell – $14.95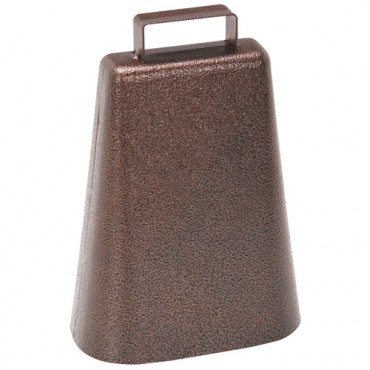 Constructed from mild steel, this bell sports an antique hammered copper finish and produces a loud, dull tone that can be heard over long distances. Get more cowbell sound with this all-steel cowbell!
Steel-welded construction
Zinc clapper with loop and eye constructed in a single piece
Hanger loopHanger loop dimensions: 1-15/16″ L x 5/8″ WClapper dimensions: 1-1/8″ L x 13/16″ diameterOverall dimensions: 6-3/4″ L x 4-11/16″ W x 2-11/16″ H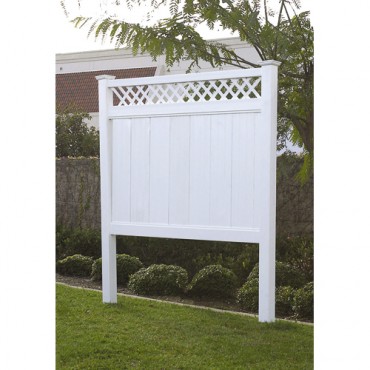 PVC Privacy Wall – $299.95 Create your own private patio!
Overall dimensions: 99" L x 105" H
Sturdy PVC construction
UV treated for long life
Easy to clean with damp cloth
Some assembly required

Reusable, Self Standing Yard and Garden Bag – $16.95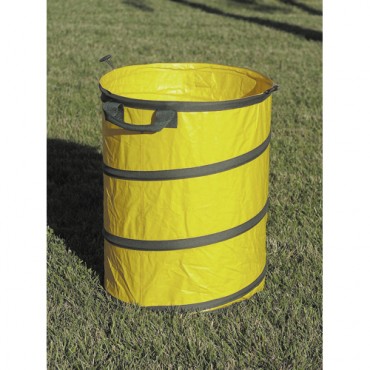 This large, reusable yard and garden bag is ideal for collecting leaves, plant clippings, grass and more. It instantly unfolds to hold 3-1/2 cubic feet of leaves, fruit, or garden clippings. When not in use, it compresses down to a compact 1″ high.
Three rugged handles for lifting and dumping
Reinforced coiled inner spring
Made from tough polyester canvas
Expanded dimensions: 18-1/4″ diameter x 23-1/4″ H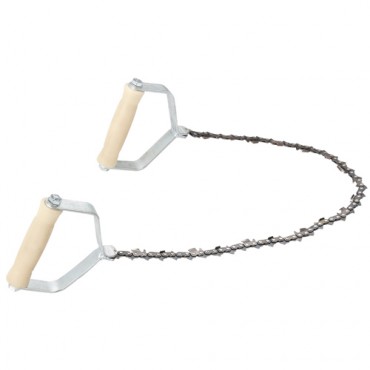 Portable Hand Chain Saw–$29.95
Bi-directional cutting teeth for faster cuts
Lightweight and flexible allows you to work in tight spaces
Heavy duty handles which allow you to cut straight and even
Length 37 inches
World's Best Outdoor Mat– $149.95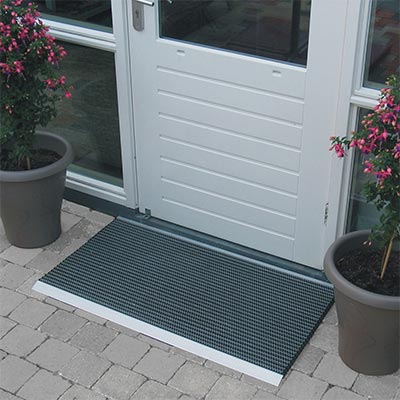 Door mats have always been a feature of peoples' homes. Their main purpose? To wipe away dust and dirt from shoes….keeping the interior of the home clean. The World's Best Outdoor Mat aggressively scrapes dirt, debris, sand and snow from shoes. The thousands of strong durable bristles work together to clean away dirt and grime, allowing the dirt, grime (and even snow) to fall beneath the surface of the mat. Did you know that the majority of flu like symptoms, breathing complications, cold and sore throats are caused by breathing unclean air? The average household can track up to 60 lbs. of dirt per year into their homes. By using the World's Best Outdoor mat at the entrance of your home, you can reduce the amount of dirt and allergens tracked inside…..saving you time and money and making your home healthier! This sturdy weather and slip resistant mat features a 2″ sloping aluminum safety ramp and a 1″ threshold that butts to your door. It is 1″ thick with durable bristles that clean, remove, and trap up to 8 lbs of dirt! Clean up is quick and easy too. Just roll up your mat and sweep up the accumulated dirt, debris or snow trapped below the surface. Place the mat at your most used entry way, then sit back and enjoy the benefits fo a clean, healthy home with less allergens. The durable and easy to handle style makes for a great year round scraper or inclement weather mat. It is ready to install right out of the box.
No assembly required! Features of the 2′ x 3′ mat:
Heavy duty, will stay in place and not shift even in high traffic areas
Can hide/trap up to 8 lbs of dirt underneath- reducing the amount of dirt and allergens tracked inside your home or office
2′ x 3′ size is ideal for home, office or commercial uses
Xtra Mat Size: 1″ thick x 2′ deep x 3′ wide
Weight: 18 lbs.
Manufactured using 65% pre-consumer recycled content
Bristles adjust with each step to scrape dirt, snow, sand and debris from the soles of shoes
Extremely durable for long lasting performance
Drop through spacing hides collected dirt from view
Rolls up for easy handling and maintenance
High pressure water washable
Will not decompose or cause unpleasant odor
Standard size is ideal for most residential doorways and entrances
The Worlds Best Outdoor Mat is designed for the most discriminating home and building owners
Materials: Anodized aluminum and recycled vinyl with UV stable nylon bristle inserts
GOJO Natural Orange™ Hand Cleaner 1 Gal Pump Bottle – $35.95 each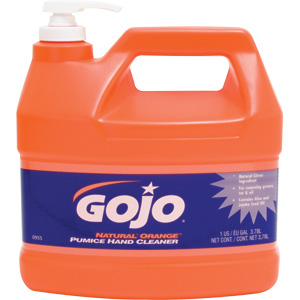 This stuff is awesome! GOJO works great, getting your hands clean after a day of working with stinky manure, compost, dirt, grime, slime, or grease. You need something that will cut through all of that stuff and get down to the soft, nice looking (and smelling) hands that you love. Use what the professionals do. This is the stuff you need!!
Natural Orange™ pumice hand cleaner
Economical, quick-acting lotion formula for cleaning a broad range of industrial soil, medium dirt and grease
Contains baby oil, scrubbing particles and a citrus scent
1 gallon bottles $35.95 each
Buy in bulk–Get a case (4 Gallons) for $120 and save!