Securement
12' x 16' Reversible Tarps $20.00 each
We love tarps! If you decide that you want your material dumped on a tarp, we recommend at least one of the 12'x16′ size or larger tarps for all delivery orders up to 9 cubic yards. Usually, when we dump materials out of the dump truck, the pile is 12′-15′ wide and 5′-10′ long depending on how many yards of material you order. Place your tarp like diagram #2 below. For orders of 10 or more cubic yards, we recommend two of the 12'x16′ size tarps placed, one in front of the other (see the diagram #3 below).

You can purchase 12′ x 16′ Reversible Tarps from us in advance and we'll bring them when we deliver your materials. Just let us know when you place your order. Tarps are just $19.95 each! After doing some comparison shopping probably 6 or 7 years ago, Fred Meyer had the exact size/brand of tarp that we carry, but they were charging $29.95 for it! Ours is almost 1/3 cheaper and with inflation and cost increases the past 7 years, we still have the best valued tarps around!!
If you have your own tarp, please prepare the area and place your tarp down BEFORE we arrive with your order, PLEASE place the tarp as shown in the diagram below to the right (#2) below. If you do not, the material will likely spill from the sides of the tarp when it is dumped from the truck. There is a $10 minimum standby charge added to your order for us to wait while you correctly place the tarp!
Please heavily secure your tarp (especially around the corners) so that the wind does not blow it out of place or away. It is not the delivery driver's job or responsibility to secure your tarp or put it in place if he arrives and you are not there. If the tarp has blown partly or fully away or is obviously out of place and the driver has to wait for you to fix it, there is a $2.50/minute standby charge ($10 minimum) that will be added to your order. Please be respectful of our drivers' time. Thank you!
#1–The wrong way to place your tarp! #2 Diagram–The right way for 1 tarp #3 Diagram–the right way to place 2 tarps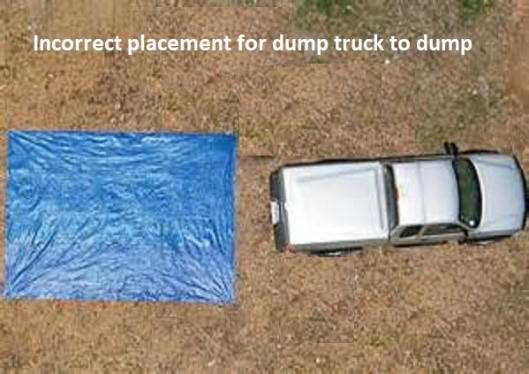 Joe's Elastic Stretch "Bungee"Cords
Use one elastic cord or link several together to secure and tie down a wide variety of objects and loads. Joe's heavy duty elastic cords feature steel hooks with protective vinyl tips to protect items while "O" rings convert any two cords into a 4-way tie down.
Steel hooks with protective vinyl tips
Heavy duty fabric covered elastic cords
Sold by the piece ($1.50 each) or get the whole 40– piece set below deeply discounted for just $39.95. The set includes:
3– 42 inch cords
4– 14 inch cords
4– 24 inch cords
4– 30 inch cords
4– 36 inch cords
4– 38 inch cords
6– 18 inch cords
8– 10 inch cords
3– metal rings to convert cords to 4-way tie downs
Joe's Twisted Polypropylene Rope
The only rope that floats. Use for dock lines, pools, watersports. Joe's poly rope is perfect for a variety of jobs, from securing equipment and tying down tarps to camping and sailing applications. The rope is mildew resistant, snag- and acid-resistant too. We can cut whatever length you want for just 25¢/ft.
Highly visible and lightweight and floats on water
Resists rot, mildew, oil, gas, moisture and chemicals.
3-strand twisted for a 113 lb. working load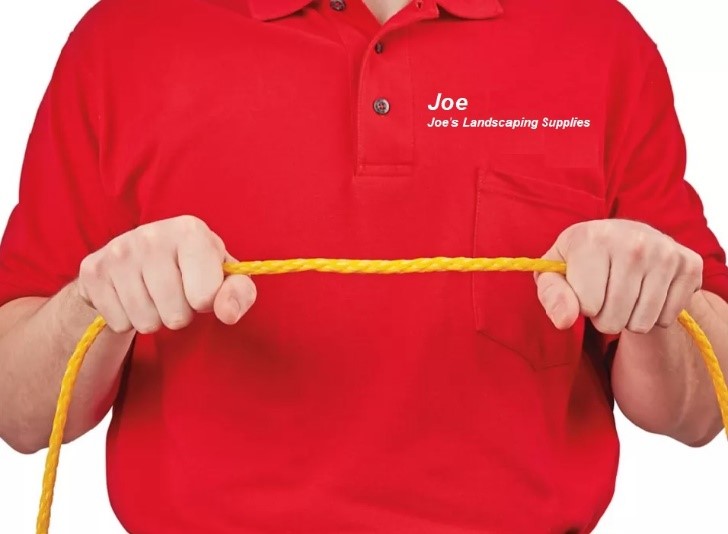 Joe's Trucker's Chain
This is 3/8 inch X 13.2 foot Grade 43 Towing Chain comes highly recommended by customers and Joe. This grade 43 tow chain can bind and move up to 5400 lb.. The trucker's chain is zinc plated to resist rust. It comes with a clevis grab hook at both ends to ensure secure attachment. $59.95
Grade 43 High Test chain designed to meet DOT specifications
Rust-resistant zinc plated
Equipped with 3/8 in. clevis grab hook at each end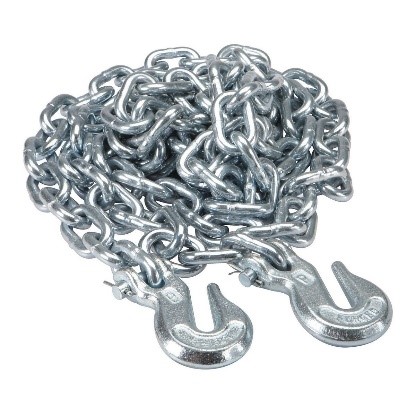 Joe's Super Premium Trucker's Chain
This is the best of the best when it comes to chains.  This one is a 1/2 inch X 20 Ft. Grade 70 Trucker's Chain that can haul, bind and secure loads up to 11,300 lb. The entire trucker's chain is zinc plated to resist rust and is colored gold to meet California Highway Patrol requirements.  It features include a grab hook at each end to ensure secure attachment. This chain can haul, bind and secure loads up to 11,300 lbs. The trucker's chain is zinc plated to resist rust. It comes with a clevis grab hook at both ends to secure attachment.  $69.95
Grade 70 Transport chain with visual color and markings to meet DOT requirements
Yellow zinc plate to reduce sparking and offer superior corrosion resistance
Meets California Highway Patrol requirements
Equipped with grab hook at each end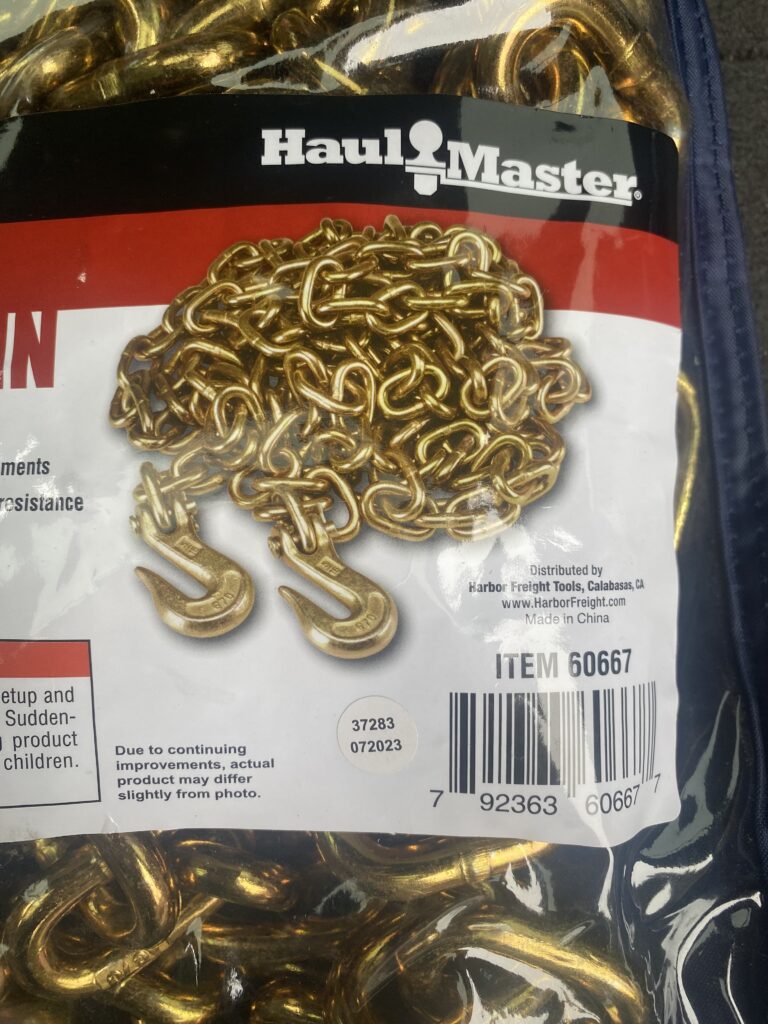 Supplies
Joe's 3'x50' Weed Block Roll
that we sell at our store in Woodinville or that we can deliver to you with your delivery order. The fabric is very popular in our product line and works well. Joe's Weed Block Roll keeps weeds out with small openings in the fabric to let air and water in and allows for proper air exchange for oxygen in and carbon dioxide out. $20.00

3' x 50' Roll—Covers 150 square feet
Provides adequate weed control for residential landscape areas
Great for annual plantings
Maintains soil moisture and promotes a deeper root system
Point-bond material allows air and water penetration
Basic UV protection for strength and durability
Easily installs with Joe's landscape staples/pins
Ideal for residential landscape beds and home gardens
Assembled in the USA
Joe's Commercial Grade Weed Block (Bulk Roll)
We highly recommend the use of weed blocking fabric that you lay down on the ground before applying your landscaping material on top. It lets water through but blocks weeds and grasses from growing up, giving your area a clean, neat appearance and most importantly low maintenance…..and who doesn't want that? It'll save you a lot of unnecessary work pulling weeds and grass out that, no matter how deep you lay down material, will grow up through if you don't have weed block laid down first. Plus, it eliminates the use of harmful chemical agents used to kill weeds and grasses. It is a one time, fairly inexpensive thing to do and laying it down is easy. You can put bark on top of it for your flowerbeds or put gravel or crushed rock on it for driveways or walkways. It is very durable, unlike many other weed block products, so it is great for use under heavy, "pokey" sharp edged rock such as what you might use for a driveway or walkway. It keeps the rock separated from the dirt and the weeds from growing up while still letting water pass through.
We custom cut pieces so you don't have to buy a whole roll!—We'll cut whatever length you want so you don't have to buy a whole roll if you don't need it. If you need us to cut a 2' long piece or you want it to be 40' long, we can do it. We'll cut it while you wait or we can deliver it to you already cut.
It comes on a roll that is 12.5 ft. wide. So, for example if we cut a piece that is 10 ft. long, you'll get 10 ft. x 12.5 ft. = 125 square feet of Commercial Grade Weed Block. We charge $2 per linear foot if you pick it up and pay with cash. For example, if we cut a 10′ long piece (125 square feet total), it is just $20 plus tax. We charge $2.25 per linear foot if we deliver it to you with your existing order, or if you purchase it with a credit card or on Sundays.
Buy the whole roll!— Get a deep discount by purchasing a whole roll of Joe's Commercial Grade Weed block. The roll is pictured below and is 12.5 ft. wide by 432 ft. long (which equals 5,400 square feet) and we'll sell you the whole thing, deeply discounted for$595!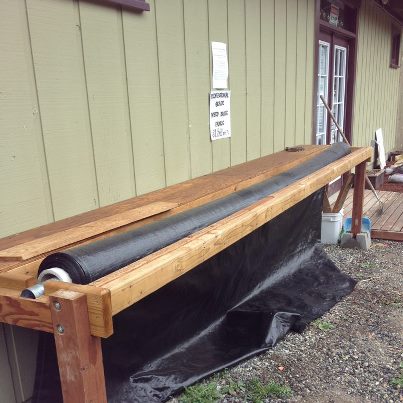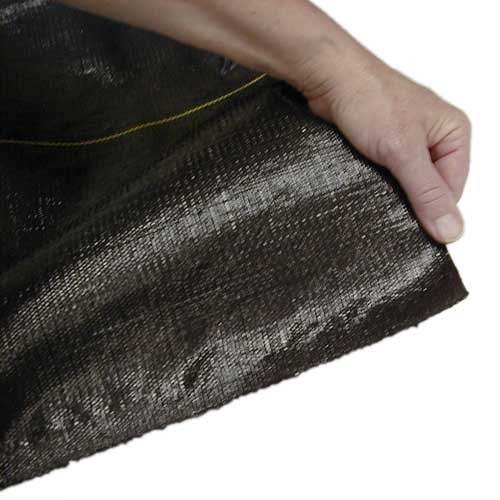 Joe's Landscape Staples
Our commercial, pro grade, heavy duty constructed steel landscape staples/pins designed to secure weed block (geotextile or fabric), sod, and other materials will keep Joe's Commercial Grade Weed Block (Geotextile) or Joe's 3' x 50' Weed Block Roll (fabric) in place to help protect your garden. These reusable U-shaped staples are made from strong 11-Gauge steel for durability. About Joe's Landscape Staples/Stakes/Pins:
They perfectly hold landscape Geotextiles/fabric in place
They are made from strong 11-Gauge galvanized steel for durability
They are reusable and have an easy-to-use design
Staples/Stakes/Pins are 6 inch in length x 1 inch in width
They sink deep into the ground, great for securing sod grass, landscape fabric and plastic, fences, tents, tarps, garden cloth, hoses, weed barriers, wires, and more.
EASY INSTALLATION – The sharp clean angled cut on the ends of our Staples/Stakes/Pins easily penetrate weed barrier mat, plastic sheeting and heavy soil with ease.
FULL 6-INCH LENGTH – makes our Staples/Stakes/Pins perfect for anchoring fencing including electric dog fence and holding down sod and garden edging.
GALVANIZED STEEL – These staples/Stakes/Pins hold securely in strong winds. Anchor bird netting, holiday decorations, floating row covers, and more!
FEATUREED DESIGN – Trapezoidal design for additional tension in the soil. Beveled endings for quick and secure mounting in the ground.
We sell commercial grade, heavy duty Joe's Landscape Staples 2/$1. You can also buy them in a 25-count bag for $9.95. Finally, we sell the 100-count box, deeply discounted, for $25. You can pick them up at our store or we can deliver the staples to you with your order of bulk landscaping materials that includes Joe's Commercial Grade Weed Block (Bulk) Roll or Joe's 3'x50′ Weed Block Rolls.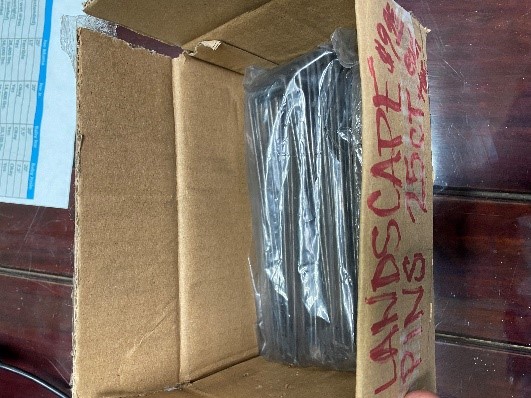 Safety & Protective Wear
Suede Leather Palm Gloves
These are GREAT work gloves. They are made of durable suede cowhide, have a palm patch for extra wear
and a safety cuff for added protection! $9.95/Pair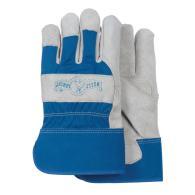 Nitrile Coated Work Gloves
Nitrile coated gloves offer superior performance in a variety of applications and across a broad range of industries. They are lightweight, offer great dexterity and fit snug like a second skin. The nitrile coating on the palms and fingers delivers enhanced dry gripping power and control while creating a barrier of protection against liquids, epoxies, adhesives, greases and oils. The back-of-hand knit construction is designed to be breathable for all day wear, and the snug fit means you will have natural movement, great dexterity and experience less hand fatigue. These reusable gloves are safe for people with latex allergies. $5.95/Pair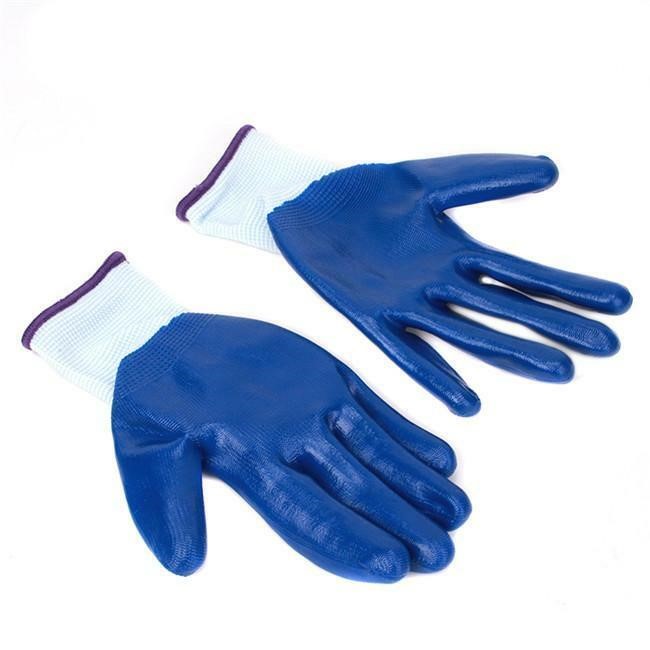 Joe's Ear Muffs
Protect your hearing with these ear muffs. Reduce loud factory noise or the noise from landscaping equipment to the level of a normal conversation. These ear protectors fit completely over the ear with large, comfortable ear cups. Get ANSI-certified protection with these ear muffs. $12.95
Reduce loud factory noise to the level of a normal conversation
Large high-impact ear cups
Soft PVC ear cushions
Universal headband adjusts to fit most sizes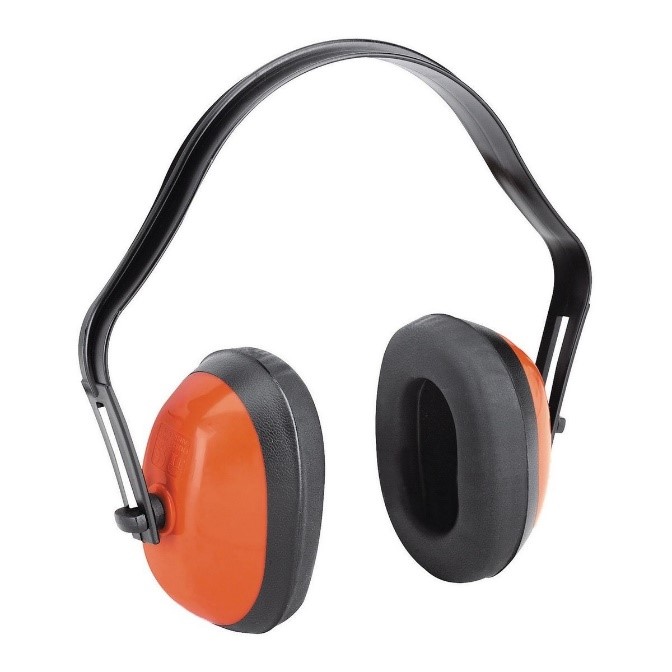 Joe's Impact Resistant Eyeglasses
Made with tough polycarbonate clear lenses, this pair of impact-resistant safety glasses is designed to wrap around your face for maximum protection. Adjustable side frames keep the safety glasses secure and comfortable. Work confidently knowing that these safety glasses are compliant with national standards. These durable safety glasses give eyes full coverage protection. $9.95
"These feel good to wear and I like that the sides of my eyes are completely protected too. I can see well through them, especially when I am mowing the lawn or weed-eating. I highly recommend them!" said Joe, the owner of Joe's Landscaping Supplies.
Tough polycarbonate clear lenses
Wrap-around design for full coverage protection
Adjustable side frames
Meets ANSI Z87.1, EN166F and CE standards
One size fits all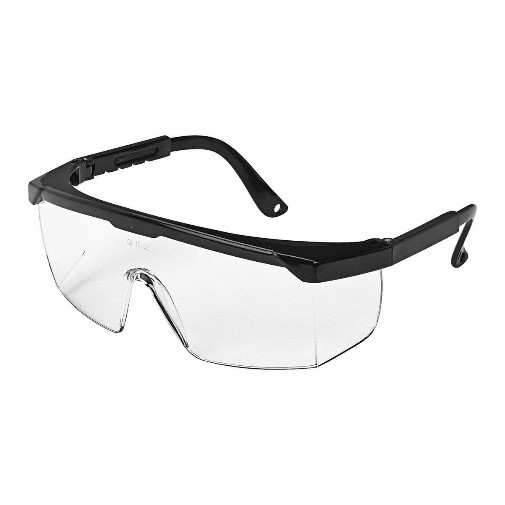 Tools
Joe's Jammin' Workhorse Wheelbarrow
Already assembled and ready to go! Get more done with this hard-working wheelbarrow. The high-capacity 6 cu. ft. steel tray, rugged steel handles and flat-free tire make this unit ideal for just about any job. This wheelbarrow is built to last and will provide years of trouble-free service. $149.95
Dimensions: 25.50 in. W x 58.75 in. D x 27 in. H
15.5 in. Joe's flat-free tire, never needs air!
Tough steel handles with comfort grips includes a Heavy-duty undercarriage
6 cu. ft. capacity. Just 4 1/2 wheelbarrow fulls move 1 cubic yard of material (27 cubic feet in 1 yard). Be more productive and efficient with this hot rod work horse!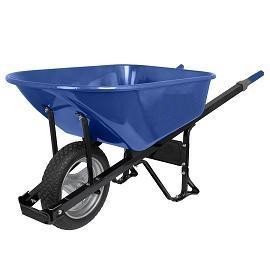 Joe's Garden Bow Rake
Joe's 62-inch long, hi-strength fiberglass laminate handle, Welded Steel Garden Bow Rake has 14 tempered-steel tines that work to break up hard compacted soil or mulch and spread the material evenly. It is also great for raking up leaves, pine needles or branches as well as smoothing soil, sand or gravel.
Joe's Garden Bow Rake has great value to homeowners for landscaping and gardening requirements with a 6″ cushion foam grip for comfort. Plus, it is lightweight and easy to handle too. This super-strong bow rake makes short work of yard cleanup. $49.95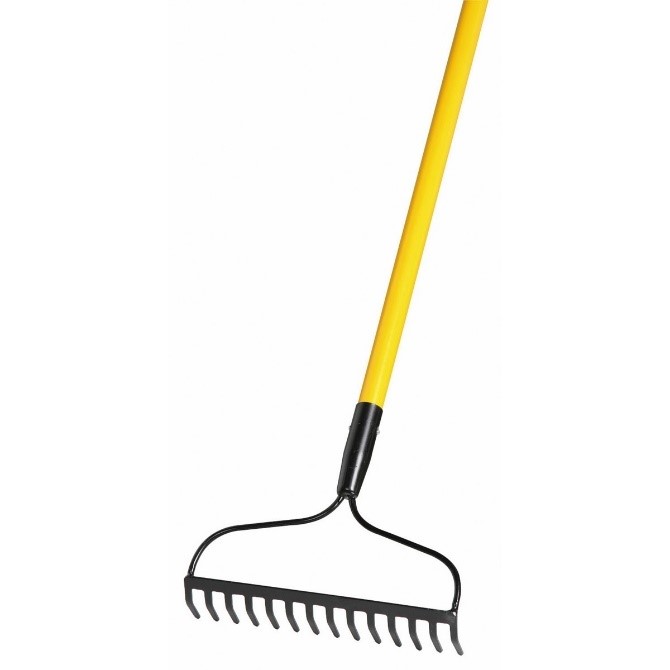 Square Point or Round Point Shovels
54.5-in Long, Fiberglass-Handle, Welded Steel Garden Rake
This rake has 14 tempered-steel tines that work hard to break up hard compacted soil or mulch and spread the material evenly. It has great value to homeowners for landscaping and gardening requirements with a 6″ cushion grip for comfort. It is lightweight and easy to handle too! $19.95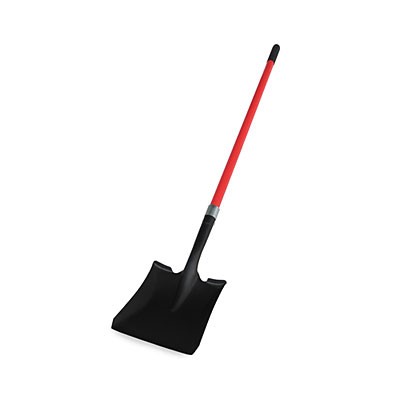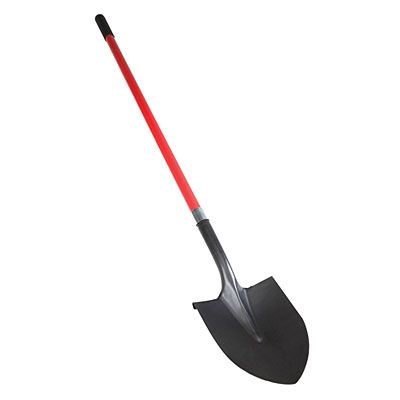 20″ Snow/Bark Shovel & Pusher
Winter is no match for this snow or bark shovel and pusher. The unique blade shape and angled rib pattern combines the features of a snow shovel and pusher in one versatile package for all-purpose snow removal or bark dispersion. A durable galvanized steel wear strip offers the ultimate longevity as a Steel Core shaft encased with a sure-grip vinyl covering tackles whatever is in its path. $49.95
Specifications
Dimensions: 50.75″L x 19.75″W x 5.0″H
Product weight: 4.57 lb
Material: Resin
End use location: Outdoor
True color: Gray
Wipe clean
Aluminum Scoop Shovel
Joe's aluminum scoop shovel is designed to move large loads of material and is great as an all-purpose scoop shovel for the yard, shop or stable. The armored D-handle and lightweight #12 scoop make moving materials easier. Plus, the blade is light enough and wide enough to use as a snow shovel. If you are moving pea gravel, spreading sand, soil, mulch or cleaning up around your yard, Joe's aluminum scoop can handle the job! $49.95
Aluminum scoop is ideal for transferring soil, mulch, feed, and general cleanup jobs
Aluminum blade, size #12, is lightweight and strong for all your material moving needs
Armored D-handle grip provides a secure hold for heavy loads
30-In hardwood handle for long life
Perfect for the professional contractor, industrial worker, landscaper or homeowner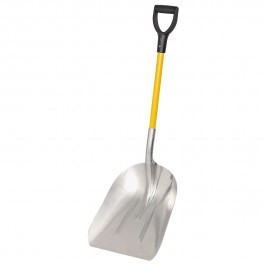 Joe's Perfect Pruning Trifecta!
Joe's has a the perfect pruning solution that fits your needs! We have 3 tools that work great together or that are sold separately!
Long Reach Ratcheting Bypass Lopper–Make clean cuts on tough, woody branches w/ this long reaching lopper $44.95
22" Hedge Shears–Keep hedges neat and trim with wavy blade hedge shears $44.95
Steel Handle Lopper–Durable steel construction with precision ground blades $44.95
Get Joe's Perfect Pruning Trifecta (all 3 tools), deeply discounted for just $99.95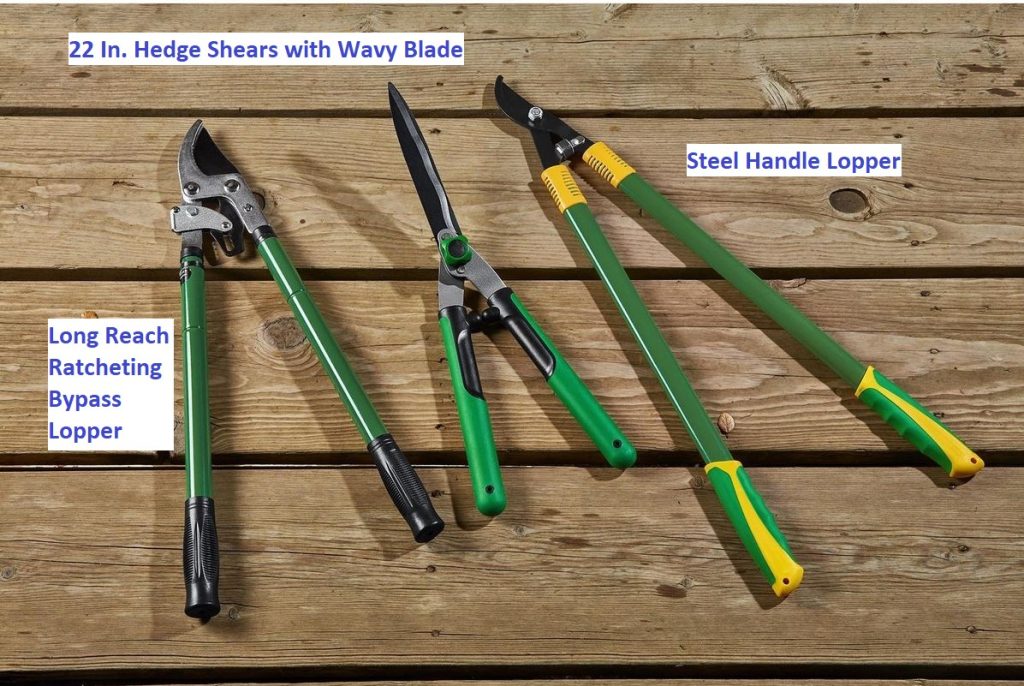 24″ Poly Greensweeper- Leaf Rake!
This handy leaf rake has a wide 26 in. span to get jobs done quickly. Durable yet lightweight, Joe's Leaf Rake is designed with 26 strong polypropylene tines. A staple for the part-time gardener, full-time landscaper or anyone in between! Pile leaves and gather mown grass quickly with this leaf rake from Joe's! $24.95
26 strong polypropylene tines won't kink or rust
Wide 26 in. reach to get the job done quickly
Lightweight natural wood handle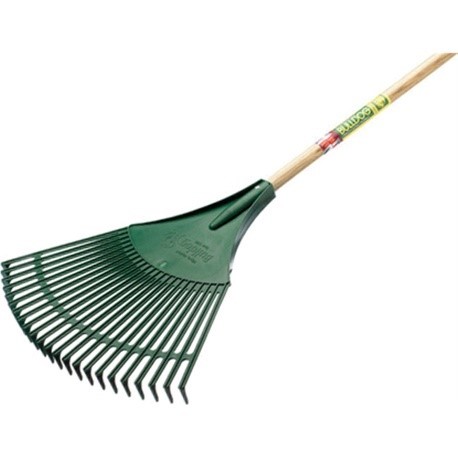 43 In. Garden Fork With D-Handle
Thick tines make this an ideal spading fork in loose soil or great as a pitchfork for quick cleanup of loose branches, leaves, mulch and manure. Joe's sturdy garden fork is great for cultivating and breaking up soil. $49.95
Scoop various materials such as compost, mulch and hay
High-strength fiberglass laminated shaft
Big comfortable D-handle
Heavy duty collar for extra strength
33-1/4 in. long handle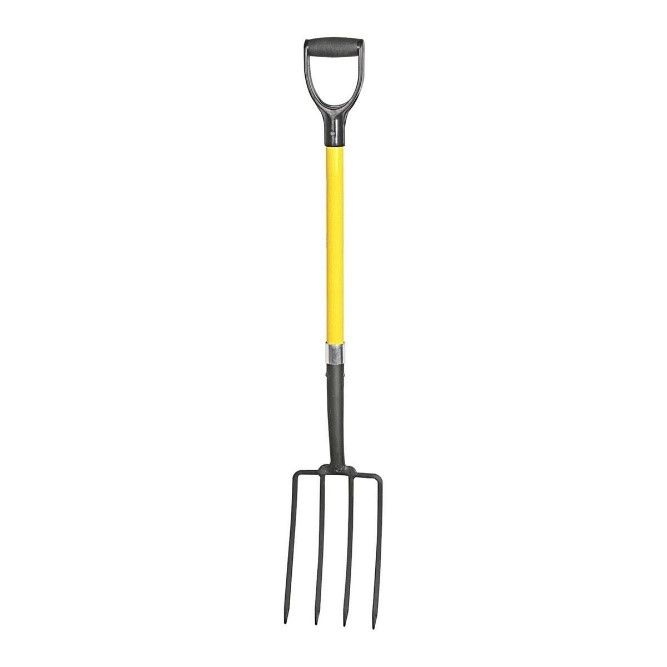 Joe's 24 Inch Push Broom
This push broom is ideal for indoor or outdoor use. Clean up big jobs fast as it has a strut-reinforced head, threaded aluminum ferrule and a 53 inch wood handle for leverage and control. $29.95
Strut-reinforced head
53 in. wood handle
Threaded aluminum ferrule
3 inch long bristles